Looking for a career that offers a parent-friendly workplace?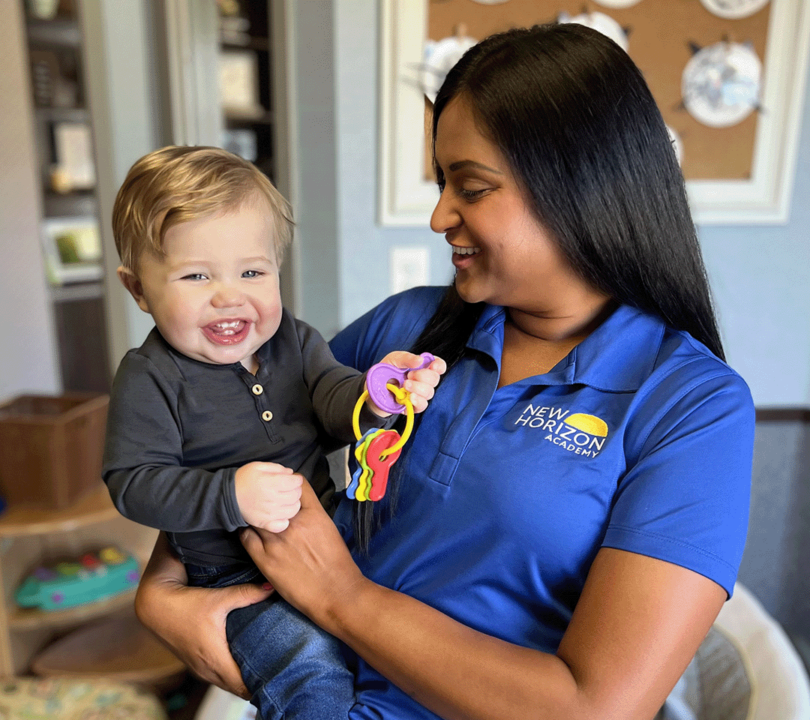 It's tough to be a working parent. Juggling school schedules, managing appointments,
and finding reliable childcare and summer camp options: these are universal challenges
that face nearly all parents, and that force many caregivers out of the workforce entirely.
If you are having trouble juggling a career and parenthood, consider becoming a
childcare teacher! A flexible, family-friendly schedule will help ease stress, and you'll be
able to keep your career and finances on track with good pay and opportunities for
advancement. Plus, working in the same building as your child means getting to see
them throughout the day!
However, there are jobs and workplaces that make it easier to manage the logistics of
childcare, which allows more parents to remain in the workforce and advance their
careers. New Horizon Academy is proud to offer a parent-friendly workplace, with
many benefits for parents, caregivers, and families.
Here are a few of the reasons that parents should consider a Career with
New Horizon Academy.
Childcare Discount
New Horizon Academy offers a steeply discounted childcare rate for infants, toddlers,
and preschool children of employees. In addition, your child will be able to receive care
at your workplace, giving you the opportunity to see them throughout the day!
Flexibility
No more nights or weekends! New Horizon Academy offers full- and part-time
opportunities with flexible scheduling. You choose when you want to work! With multiple
locations throughout Minnesota, you can work at a New Horizon school close to home.
Benefits
Above market pay, employer- sponsored health insurance, a 401(k) match, and paid
time off: these are just a few of the benefits we offer to our teachers. Visit our Careers
page to learn more about our benefits!
Continuing Education Opportunities
If you're struggling to balance work, family, home and other obligations, it can feel
impossible to advance your education. But New Horizon Academy makes it easy! We
offer full reimbursement for Child Development Associate certificates and associates
degrees in Early Childhood Education. We also provide reimbursement for bachelor's
and master's level programs.
Career Advancement Opportunities
If are you looking for career growth, New Horizon Academy is the place for you. No two
career paths are the same, and with career coaching we will create an individualized
plan to meet your unique needs. New Horizon Academy will help you grow to your full
potential and reach your goals.
A Supportive Work Environment
At New Horizon Academy, we pride ourselves on creating the best possible work
environment for our teachers. Whether you need additional training, teaching materials,
classroom supplies and state of the art equipment, growth opportunities, benefits or
more, we work hard to accommodate employees' needs. We are committed to
supporting our teachers and helping them during the workday and throughout their
career.
A Loving Learning Environment for Your Child
As a parent, we know you want what is best for your child, and we do, too that's why we
provide state of the art classrooms environments, implement curriculum based on the
latest brain research, implement the highest health and safety standards, and ensure
your child is ready for success in kindergarten and life. You will have peace of mind that
your child is in a loving and learning environment.
Learn More about New Horizon Academy
Want to learn more about New Horizon Academy? Visit our website to learn more about
our culture and benefits and explore current job openings. You can also call or text us at
763-557-1111 to connect with a talent acquisition specialist!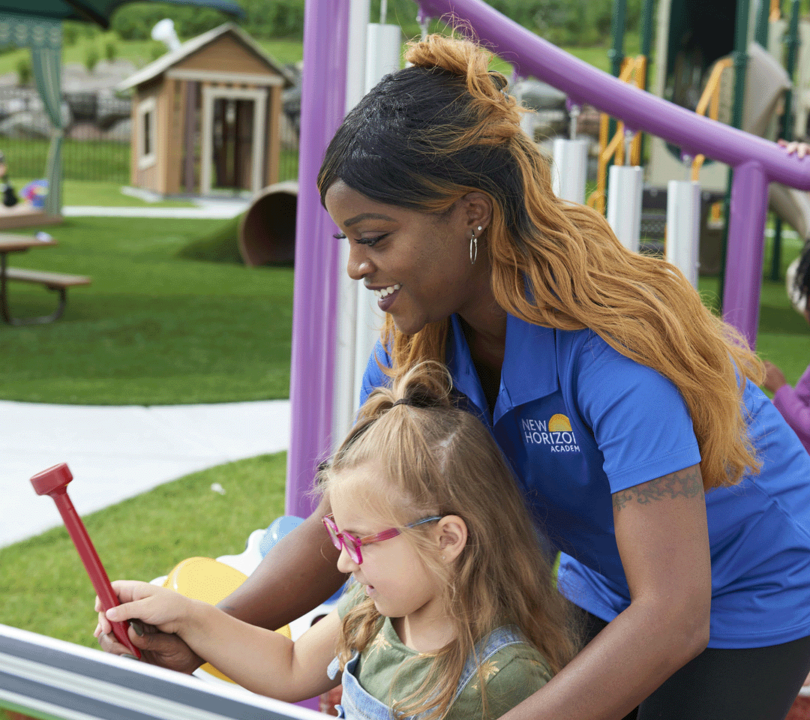 New Horizon Academy is a nationally recognized early learning provider with over 90
schools in Minnesota, Colorado, Iowa, Idaho, and Kansas. Through play-based
curriculum and high-quality daycare, New Horizon Academy schools nurture and
prepare children to succeed in school and in life.

Schedule a tour to learn more about our highly trained teachers, safe and secure
facilities, and commitment to providing the highest quality childcare. Contact a New
Horizon Academy childcare center near you today!